The new 1961 Subwoofer 1V breaks all standards when it comes to performance. 1961 Subwoofer 1V is simply put a 1961 Subwoofer 1S on steroids.
Same solid HDF enclosure but larger and equipped with a high precision slot port. Using our proprietary 12.2" driver driven by our unique 550W RMS Avalanche 550 IQ DSP smart amplifier, the cabinet volume has been sized to produce an optimally damped system, producing low distortion, extremely dynamic and natural deep bass.
Using many of the same features from 1723 series, you can be sure this subwoofer packs extreme amounts of listening pleasure (and pressure) regardless of its price point. The enclosure is ported, which can also be sealed for those who wants the edge in extra dynamics over sheer depth. 1961 Subwoofer 1V can deliver massive performance on movies, with real attention to detail and nuance in music. Movies or music. Perfect for both.
Our Avalanche 550 IQ smart amplifier marks a new era in terms of adjustability, versatility and not mention the dozens of sensor technologies which makes sure signal quality and performance are world class. Expect nothing less from an Arendal Sound product.
A new market leading high-performance subwoofer has been born – The 1961 Subwoofer 1V. The Arendal Sound way, the right way.
AWARDS & REVIEWS
Learn more about our products from happy customers and blown away magazines
BLACK MATTE
€999
WHITE MATTE
€999
Specs
Woofer
12.2″
Enclosure
Vented
Enclosure material
High Density Fiberboard (HDF)
Amplifier
Avalanche 550IQ
550W RMS
Power cable
1.5 meters
Freq. response
EQ1
16-200Hz (+/-3dB)
EQ2
20-200Hz (+/-3dB)
Dimensions without feet
54.5H x 39.0W x 50.0D cm
Dimensions with feet
55.7H x 39.0W x 50.0D cm
Weight
36.1 kg
Break-in for optimal performance
50 hours
PREMIUM
BUILD QUALITY
Even for our 1961 series we opted with HDF (High Density Fiberboards) cabinets over conventional MDF (Medium Density Fiberboards). The reason being a much stiffer cabinet which improves dynamics and sound quality. Premium finishes, no vinyl. New designed puck design rubber feet with Arendal Sound logo engraved. 1961 is built on premium level.
Read more
AVALANCHE 550 IQ AMPLIFIER
"Revolutionary" is rarely used in the audio industry, especially for speakers and subwoofers. The new Avalanche 550 IQ subwoofer amplifier from Arendal Sound is one exception, measured in performance and technology. State of the art amplifier designed and developed from scratch to give performance and features you could only ask for at much higher price levels.
Read more
12.2″ WOOFER
Every part of this driver has been thoroughly engineered, Klippel and FEA analysed and customized to deliver high output, low distortion, accurate bass. Designed to get the typical explosive, hard hitting dynamics, precision control and bass definition required to resolve the finest details of music that Arendal Sound is known for from the 1723 Series.
Read more
THE PUCK
For 1961 Tower and subwoofers, we have customized a new slick puck-design mounted with M6 bolts. They create extreme stability against the floor. Branded with the Arendal Sound logo.
PREMIUM FINISH
1961 Series comes in high quality paint finish and hand buffed. We offer black and white texture matte finishes. Premium finish you would expect from a premium product. No vinyl.
MAGNETIC
GRILLS
We did not cheap out on looks. Cheap plastic pins did not feel right. We custom designed and tooled our own grills including neodymium magnets in both the cabinets and grills, with a protective rubber surface to avoid scratches.  
Read more
5 YEARS
WARRANTY
Luckily for you and for us, Arendal Sound products are extremely durable products which have gone through extreme stress tests during development.
HAPPY CUSTOMERS
Customer Reviews
Write a Review
Ask a Question
14/11/2019
Johnny T.
Norway
I recommend this product
Fantastic Price/Value
So I was lucky to get to test one of the new subs from Arendal Sound 1961 Subwoofer 1V . Had it in my system for about a week and really enjoy my time with it. * Ported/Sealed design * 12.2» Long throw driver * Dual Magnet * Avalanche 550 IQ forsterker/DSP solution * LCD Display for UX * Many combinations for adjusting in-room response and to personal preference * Presets for movies/music combination * Make pants shake at low volume levels All doubts aside, this is a stunning piece of gear. Considering its size and relative small driver it just blows me over. It has all the qualities as my bigger SUB3. Just as fast or even faster in some areas and just as accurate packed in a smaller package which definitive would be preferable in most homes. Don't know how the Arendal team manage to pull this off but its great to see that it is possible. The subwoofer had several hours break-in before arriving me and I had lots of days testing this small beast. I own lot of well known demo tracks so I was testing it hard in every way and it perform no matter what I throw at it. The tactile feel was there and the layer of the bass is beautiful sorted out in the room and I never felt I lost anything that I experienced with my own setup. That to be said I have been in several other Arendal Sound subwoofer setup and the layering of the bass is always something that draws to my intention.On some demotracks that extends way down it also is easy to hear that it goes lower in response. This is of course great but to my mind and knowledge it also can be the root to some problem if you go very loud or the room is working against you. Buying several of these in a high-end setup would of course address these issues. I did some hours with music with the sub in sealed mode and it did its thing here to. The basslines had punch and feel to it and I only did a fast calibration, considering all the adjustments you can tweak this is probably going to be a favorite sub for music for very many people. Should I be critical about something it is the max SPL which isn't quite up to my Arendal SUB3. That to be said I am listening @reference and are known with my friends to go very loud. (That`s is one of the reasons I own dual SUB3 🙂 For the normal user which would be 95% of the crowd these 12.2» would go loud enough without problem. I don't know the price of these and I see several thinking these are budget model but the performance is telling me otherwise so a little curious about the cost. BTW i did try to buy the demo model but no luck there since they where going for another review. Since they are so small two of them would fit perfectly behind my coach so when Santa is coming she know what I will like to have 😊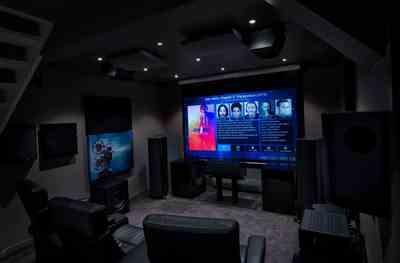 GRAPHS & DATA
All loudspeaker measurements are made in anechoic chamber, measured at 2.83v/1m. The subwoofers are measured at ground plane to get realistic frequency response, measured at 2.83v/1m.