The baby of our Subwoofers, the Subwoofer 1 is still a potent beast that would top many ranges. Using our proprietary 13.8" driver driven by our 500W RMS Avalanche DSP amp, the cabinet volume has been sized to produce an optimally damped system, producing low distortion, naturally deep bass. All of the features and technology that are present in our larger multi-driver subs are present, with no corners cut. Conceived as a natural match for smaller rooms, you will be amazed how large a room the Subwoofer 1 will be happy driving.
"With a price well below 1.000 EUR and despite the manageable size of this 1723 Subwoofer 1, Arendal is offering a remarkably powerful deep-bass performer that can easily take on larger competitors. Its solid cabinet, the powerful 500W power amplifier and last but not least the heavy-duty 300mm driver ensure the ultimate deep-bass performance all the way down to 20Hz!"
AWARDS & REVIEWS
Learn more about our products from happy customers and blown away magazines
BLACK GLOSS
€949
WHITE GLOSS
€949
BLACK SATIN
€899
WHITE SATIN
€899
Specs
Woofer
13.8″
Enclosure
Sealed
Enclosure material
High Density Fiberboard (HDF)
Amplifier
Avalanche 500DSP
500W RMS
Power cable
2.5 meters
Freq. response
EQ1
20-160Hz (+/-3dB)
EQ2
34-160Hz (+/-3dB)
Included
Power cable. Manual
Dimensions without feet
48H x 33.5W x 45D cm
Dimensions with rubber cones
49.2H x 33.5W x 45D cm
Weight
24.5 kg
Break-in for optimal performance
50 hours
PREMIUM
BUILD QUALITY
Higher density and naturally better damped than MDF (Medium Density Fiberboard), using HDF (High Density Fiberboard) results in a sonically inert cabinet. We use no plastic parts.
Read more
AVALANCHE 500DSP AMPLIFIER
The brain of Arendal Sound subwoofers, the Avalanche 500DSP and The Avalanche 1000DSP.
Read more
13.8″ WOOFER
Why 13.8"? The 25% larger surface area, when compared to a 12" driver, yields a woofer that requires less excursion and power to achieve the same SPL levels. Subwoofer 2 and Subwoofer 3 are using dual 13.8″ drivers.
Read more
MAGNETIC METAL GRILLS
We are especially proud of our new exclusive and fully custom made grills. For all Arendal Sound speakers we have made a free flowing, perforated metal grill which does not affect sound quality.
Read more
10 YEARS
WARRANTY
Luckily for you and for us, Arendal Sound products are extremely durable products which have gone through extreme stress tests during development.
HAPPY CUSTOMERS
Customer Reviews
Write a Review
Ask a Question
Filter Reviews:
subwoofer
room
bass
music
feeling
movies
something
movie
quality
20/05/2020
David B.
GB
The White Icing on my Home Cinema Cake!
Let me get straight to the point, the Sub 1 impressed me that much that I more or less immediately purchased another! My current living room 5.2.4 system consists of MA Silver and MA in ceiling speakers, so I was wanting something equally comfortable at delivering musicality, yet provide enough impact during movies; the Sub1 handles both with consumate ease. The fact the Sub1 also looks great too, not like a conventional boxy sub, meant my wife was more accepting too, which conveniently paved the way for the introduction of the second Sub1 😉 I run both of mine in an opposite corner loaded configuration using EQ1, as I find this gives me the best combination of bass, balance and wife harmony. For reference, my unsealed room is 5.2mx3.2mx2.5m. Integrating the Subs was pain free. From the helpful customer service (thanks Gunnar!), through to the quality of packaging, along with the excellent product which is priced incredibly reasonable, I wholeheartedly recommend purchasing from Arendal Sound 👍
15/05/2020
Henri J.
FI
Best subwoofer i have heard or used!
Havent had sealed subs before, so didnt know what to expect. I like the look of them. Minds me of something that batman would have in black matte 😀 You can clearly hear different bass tones better than subs i had before. Like Svs pb-1000. My room makes it roll off about in 30hz region without any tweaking, but using Dspeaker antimode 2.0 and Denon x3400 avr. I can tweak it to shake my walls at 14hz! I have a pair of them which makes them sound even better. It doesnt make the same pressure feeling as ported ones, but i never liked the funny feeling in my eardrums 😀 By tweaking! I could say you couldnt ask for more. Punchy, very very detailed, sleek looking and shakes the sofa when listening movies. Also rap and house music BANGS with these. Highly recommended!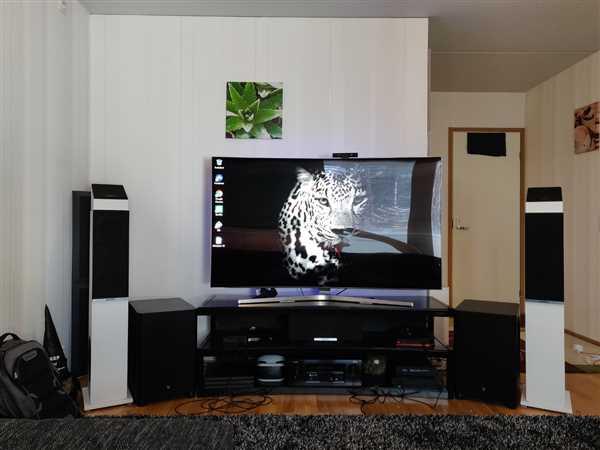 12/05/2020
LeslawJan P.
IE
Masses of quality bass!!!
This is a subwoofer that's fast and agile enough to convince with music, while still having the sort of muscle required to make the most of the heavy-hitting, large-scale film scenes.
11/05/2020
Filippo S.
IT
Awesome
Sorry for my bad English, and short review. Really appreciate this Sub 1. Tight bass, chest punch, clean and deep. Worth it? Sure. For information, my room measure 5 meter x 3.5 meter and 3 meter height. Super.
08/05/2020
Alfred P.
AT
My way to Arendal
On the way from the North Cape to Southern Norway in July 2017 with the motorhome, I stopped in Arendal and was able to convince myself of the quality of the Arendal speakers. Now I replaced my large speakers with Cabasse Bora compact speakers and one Arendal 1723 Sub1. I followed Arendal Support's recommendation for this sub. (80% music, 20% movie) What can I say. It is a new feeling of music. All important parameters can be changed easily and lead to a perfect adaptation of the subwoofer to the Boras. And every time I listen to music, I also enjoy the sight of the shiny, glossy boxes Thank you, Alfred
GRAPHS & DATA
All loudspeaker measurements are made in anechoic chamber, measured at 2.83v/1m. The subwoofers are measured at ground plane to get realistic frequency response, measured at 2.83v/1m.